Member Only Benefits
NARI Member Benefits
Join NARI and enjoy the many benefits to help you build a better business. Whether you're seeking Education, Certification & Accreditation or Recognition and Advocacy programs, being part of NARI provides you with opportunities to increase your knowledge, network with other like-minded professionals and have a greater impact on the 380 Billion remodeling industry.
Network
Attend local and national meetings and learn from the best of the best.
NARI Fall Leadership Summit and NARI Spring Business Meeting

Chapter meetings and events

Educational and training events

Conference, tradeshow and vendor expos

Consumer-focused events

Community service and social events

Workforce development and recruitment events

Committee and leadership events
Access
Take advantage of great programs that help our members save money and run their business better. Great partnerships with more information below on the following programs: 
The Home Depot PRO Rewards Program(Opens in a new window)  provides cash back on purchases.
NARI Building Bucks
Senior Home Safety Specialist - Age Safe America
Saving Center
Score
Guild Quality
Zoro.com Offer
---
The Home Depot's Pro Extra program offers 2% rebate on qualified purchases and so much more:
Discounts on paints and stains

Volume Discounts

Windows

Lumber

Fencing/decking

Drywall

Insulation and more

Discounts on HOVER, the 3D application to build more accurate measurements and estimates for exterior projects
---
Offering payment options to your clients is another way to provide excellent customer service and remove objections.
NARI members enjoy a shorter registration process, better financing options and greater flexibility.
---
Age Safe ® America is a national membership, training and advocacy organization committed to the importance of home safety and accessibility for older adults. It offers the Senior Home Safety Specialist™ course which empowers professionals with actionable ways to better help educate clients, older adults and their family members on the serious issues of home safety, fall prevention, financial exploitation and personal safety. Learn More

(Opens in a new window)

.
---

---
NARI has partnered with SCORE, a nonprofit association dedicated to helping small businesses like NARI members grow and achieve their goals through education and mentorship for more than 54 years. 
SCORE has a nationwide presence with more than 300+ chapters and 10,000+ volunteer mentors/business coaches. Their work is supported by the U.S. Small Business Administration (SBA) and because SCORE is network of volunteers; there is no charge to NARI members for any of their services. SCORE will match you with a local volunteer mentor who will work one-on-one with you offering free and confidential business guidance.
Click here to find a mentor near you(Opens in a new window).
---
Incorporate customer satisfaction surveys for continuous improvement.
NARI members can access Guild Quality to gather insight and find ways to improve.
---

Zoro.com is proud to be your one-stop shop for remodeling supplies. Whether you're a contractor or supplier, you can count on Zoro for building materials, tools, safety products, and more at everyday low prices. If you have any questions about your order, Zoro's U.S.-based customer service team is ready to help. Plus, no-hassle returns and payment options make it so easy to shop.
As a NARI member, you'll enjoy an exclusive 10% offer and free shipping on any size order. 
---
Awards
NARI recognizes excellence within the remodeling industry.
NARI CotY Awards
NARI's prestigious Contractor of the Year (CotY) awards are presented during the annual Evening of Excellence to member companies who have demonstrated outstanding work with their remodeling projects.
Regional winners are identified in NARI's seven regions and National awards are delivered in 48 different categories – everything from kitchen, bathroom to exterior/outdoor living spaces.
NARI Achievement Awards
NARI Achievement Awards recognize outstanding achievements by an individual, company or chapter that has worked to promote or enhance the remodeling industry.
Consumer Awareness
Driving demand for professional remodelers.
NARI is committed to building a strong industry image. We are focused on educating consumers to make smart remodeling decisions. NARI members are more professional, ethical, trained and skilled at delivering quality.
When consumers hire a NARI member, they're working with an experienced professional who adheres to NARI's Code of Ethics and Standards of Practice, rated a #1 value by NARI members.
Receive leads from remodel-ready consumers via NARI's website and social media. NARI's nationwide public relations efforts garner many media placements, making NARI the go-to resource for editors/writers looking for remodeling experts.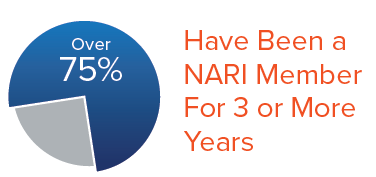 Boost Your Credentials
NARI offers a variety of individual professional certifications to help you advance your career and validate your professionalism.
With over 1000 certified professionals holding nearly 1700 designations, NARI is an industry leader in certification.

NARI also offers company accreditation through NARI's Accredited Remodeling Company program. Pursuing accreditation is a great way to both improve your business systems for increased profitability and prove to clients that your company has been vetted for compliance with THE industry standard for remodeling companies.
Learn at NARI University
NARI University provides you access to dozens of free educational webinars to help you advance your business and your skill set.
Each year NARI delivers dozens of live educational webinars to provide you with the most up-to-date content on the most pressing challenges your remodeling business faces. 
Our on-demand webinar library also allows you to access remote learning opportunities at your convenience. 
Advocate
 

for the Remodeling Industry at the National Level.

NARI is the voice of the remodeling industry. NARI advocacy takes a two- pronged approach to provide member value in legislative areas while protecting the remodeling industry's interests and your business.
NARI Advances a unified voice with lobbying efforts in Washington D.C. on critical issues

NARI conducts industry research to gauge key performance indicators and benchmark consumer demand